MASONRY & LANDSCAPING PRODUCTS
Whether you are a general contractor, a professional home builder, a property manager, a subcontractor, or a homeowner, we have solutions to your concrete / masonry needs. What matters most to us is the same thing that always has: giving our customers a business advantage. When it comes to the things that matter most, our vision is clear. We're going to keep on delivering superiority in quality, productivity, operational efficiency, value and aesthetics. That way, no matter what the future brings, we'll stay more than a block ahead.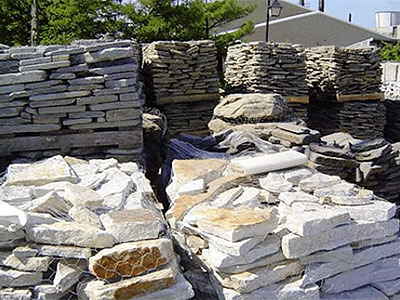 Whether you're a landscaping contractor seeking a consistent source of high-quality materials or a do-it-yourself homeowner trying to freshen up your yard on a budget, Rock Crush Recycling has you covered. Not only do we source and distribute bulk items such as bark, mulch, dirt, and sand, but we also offer a comprehensive line of hardscaping and stone supplies to ensure that your project is completed with the highest quality materials. We serve clients in Greater New York, Long Island, and Greater New York. Our company has a proven presence in this space, and our many returning customers are proof of it. We focus on providing the best products and services at the most competitive pricing, which means you can carry on your project without going over budget on these aspects. If you want reliable delivery of various masonry supplies or need responsible asphalt and concrete recycling services, you are at the right place.


Rock & Gravel
Our company is committed to providing the highest quality crushed stone, gravel, and sand, supported by an unrivaled commitment to on-time delivery and a positive client experience. We deliver gravel on schedule and can also give it on a more regular basis for longer projects. If we do not currently have a particular variety, there is a good chance we can get it. Each customer will have unique requirements, and our professionals will take a customized approach to ensure that our clients receive the items they require, in the correct amounts, and on time. We are in Westbury, which means we can handle all your local rock and gravel supplies. We can assist you with any project, whether new construction or a landscape installation. Our experts will gladly answer inquiries and help with material amount projections, and we will then deliver the goods you require to your project site on time. Read More About Rock & Gravel >>


Mulch & Topsoil
Mulch around your garden beds and trees can help maintain the health of your landscaping and its soil. We provide a diverse selection of organic mulches to satisfy your unique requirements. Our knowledgeable staff will assist you in selecting appropriate mulches for your landscaping. Organic mulches decompose slowly, releasing nutrients back into the soil and allowing them to reach the roots of plants more efficiently. We realize the value of having high-quality organic mulches in your landscape, and our team will work with you to guarantee you receive the items you require. You can calculate material estimates on our websites through the calculator. However, our experts are here to assist you with any questions concerning the dirt and mulches that we sell. Our crew is informed, competent, and experienced, and they will ensure that you receive your selected items within the specified period and quantity. Read More About Mulch & Topsoil >>


Pavers & Retaining Walls
We sell a wide variety of high-quality paver products. We understand that each project is unique and that customers desire a distinct look for their property. That is why we provide an excellent selection of pavers for use in commercial and residential applications. Retaining wall blocks are one-of-a-kind products designed to improve the aesthetic of your landscaping. There are several possibilities, ranging from basic materials to structural concrete units, that can be used to create attractive retaining walls or even freestanding constructions. Since there is a range of retaining walls systems and paver stones on the market, we are here to guide your choices. We ensure the highest quality retaining wall and paver products. Discuss your expectations with our experts, and they will do everything possible to supply appropriate hardscaping products. They will assist you in estimating the quantity you may require for your outdoor residential or commercial project. Read More About Pavers & Retaining Walls >>


Belgium Block
Belgium block is a broad rectangular quarried stone frequently used to pave roads. However, this is not the only usage for the stone; it is also used for many other applications in construction and landscaping. Tumbled Belgian bricks have smoother edges. Due to their remarkable durability and resilience to harsh weather, they are ideal for most outdoor applications. This rock is unusual in appearance and has a wide range of applications. It is available in various shapes and sizes and can be utilized in numerous buildings and landscape installations. Rock Crush Recycling covers the Greater New York, Long Island, and New York metropolitan areas. We supply the best quality Belgian rock to our clients and ensure prompt delivery regardless of the size or complexity of their requirements. We serve clients in the region with the most efficient and cost-effective Belgium block supply services. Our staff is available to assist with estimations, and you can rely on us to deliver the supplies on time to your project site. Read More About Belgium Block >>


Sand & Cement
Concrete sand is specific sand blended with cement to create concrete. Additionally, it is used to produce asphalt, Portland cement, and lime. Sand is also occasionally used in septic systems. Cement is required for various structural and landscaping purposes, and we have the highest-quality goods in this area as well. Our staff understands that our consumers expect high-quality materials and on-time project completion. We work with our clients to ensure that these objectives are met in the most price-effective, environmentally friendly, and optimized manner. Our goal is to educate our consumers while assisting them throughout the ordering and purchase process. We are committed to providing the highest level of service and prompt delivery of all the cement and sand you require for your home or business project. This helps you in staying on track with your project. Read More About Sand & Cement >>


Rock Salt & Winter
The region is prone to harsh winters. Commercial businesses, schools, churches, colleges, and hospitals around the city must ensure they have a sufficient supply of rock salt well enough in advance of the winter months. Contact us for de-icer, sands, and salt combinations, and much more. You won't be complaining about icy driveways, sidewalks, or other surfaces once you have the rock salt and other products you need to keep your property accessible and safe during winter. Shoveling snow and clearing ice by hand is a physically demanding job, let alone the time commitment necessary regularly. You want to ensure that the de-icing salt or rock salt you select is environmentally friendly. If you're unsure about the quantity to order and stock, contact one of our specialists. They can assist you with calculations so that you can store the appropriate amount without worrying about getting too little or too much for your property. Read More About Rock Salt & Winter >>


Masonry Supplies
Construction and landscaping projects demand the use of various masonry supplies and products. Every person managing these projects will want a reliable supplier for these items and tools. We understand this requirement and carry a wide range of products and tools required for various projects such as cultured Stone (Owens Corning), Fine Sand, Brick Pavers, and Natural Stones. You can also source Concrete Sand, Mortar, State Sand, Cement, and Steppingstone from us. We also carry Bluestone Treads, Bluestone Flagging, Pennsylvania PA Wallstone, Lilac Flagging / Wall stone, and various tools such as Shovels, Hammers, extension cords, straps, spades, tape measures, fabric, picks, and post hole diggers. If you are looking for high-quality concrete finishing tools, we also have those. Our team is here to help you with all the information you need about the masonry supplies we carry, and we will deliver them to you at the required site or address. Read More About Masonry Supplies >>

As you can see, we offer a wide range of products used in construction and landscaping projects. We never compromise on quality, and our company can provide you with the number of masonry supplies that you need as per your preferred schedules. We are here to cater to your needs and help with material, product information, estimations, and delivery schedules. No matter your requirements, we are here to support you in your project. Our company offers timely deliveries of the products you order so that your project can move forth without any delivery-related glitches and delays. For more information about how this works, please call Rock Crush Recycling at this number or drop us a line through this Contact Us form, and one of our team members will call you soon to answer your queries. Our team is friendly, helpful, and proactive and can assist with order placements.